People do many businesses for their livings and these businesses can be a local or global. Some of the businesses are having their physical stores, addresses and some of them are doing it remotely or online. But one thing is common in every business that is desire and passion to get success. Today each and every business does whatever it takes to take their business beyond the boundaries. That is why making website for a business is one of the most essential parts where anyone can access your website across the globe. More visibility to your website means more sales to your business.
Now coming to the point, Today Search engines like Google, Yahoo and Bing are some of the best resources for your question and queries. Most of the internet users access these search engines throughout the day for their question and queries and search engines gives them relevant results for their queries in the form of websites, news, images and videos. People go through those links and get their desired answers.
For understanding the search engine optimization process we have to take a simple live scenario in consideration. Let's talk about Crazyonweb, we are basically an SEO service & training provider company in Indore offers SEO, PPC and Internet marketing services to the clients all across the globe.
"Search engine optimization is a process where you can get ranking on major search engines for some of the user queries."
Example- If someone wants to learn SEO in Indore, he or she will search a term like "SEO training Indore" on Google and Google will return some results in response of the query. If my website that is "Crazyonweb" is listed on top position for the above mentioned query than definitely that person will click on my website. So we can say it's a human tendency that people only prefer top results on search engines for their desired queries. If your business is available in the first page of Google than your business can get huge traffic and sales.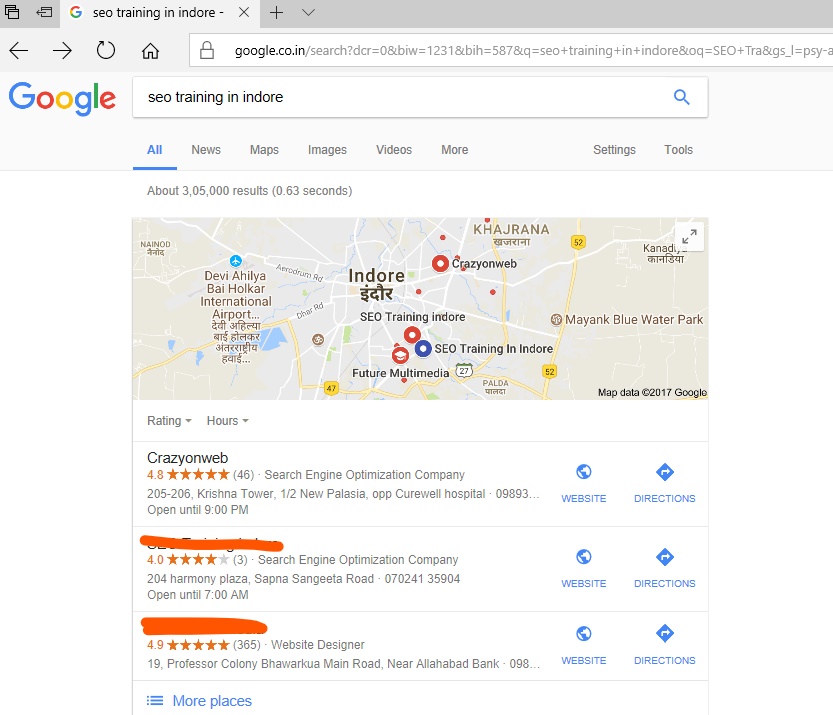 I am running my classes for last four years and believe me I have not spent a single penny for that still people call me, visit my center and join the class only because of my search engine rankings.
Search engine optimization is a powerful way to get more and more eyeballs to your website hence more traffic and more sales. SEO is a long process where you may have to wait for few days or months and sometimes years but once you get the top position for your business related queries nobody can stop you. Today millions of the businesses are focusing on SEO and internet marketing for the business growth. Most of the online businesses are totally dependent on SEO where search engines become a mediator between their business and customers.
Now the point is how to achieve top rankings on Google search engine and what are the criteria's by which any website can get the first page position on certain search queries. To understand this first you have to understand the Google's functionality, why Larry page and surge brin has invented Google?
Google was invented to help people, Giving best quality answers for user queries is Google's main objective or you can say duty. If it fails to do this how can we trust on Google?
So in short if someone willing to get top ranking on Google search engine the only way is high quality content. If your website has good content and people love to read your content than Google will surely give you the top rankings. It means you should think about your readers not Google or any other search engines. If your users are happy with your website than Google is also happy and in this situation getting good position for certain queries on major search engines will not a big deal anymore.
This is a very short description of SEO, I have tried to make it very simple for my readers. There are many more topics are still available but we will discuss them in my next post.
I hope you have enjoyed my post, for any suggestion and queries you can leave your feedback on comment section.